Once your application has been approved by the Department of Home Affairs, you will be invited by the Department to attend a ceremony held by your local council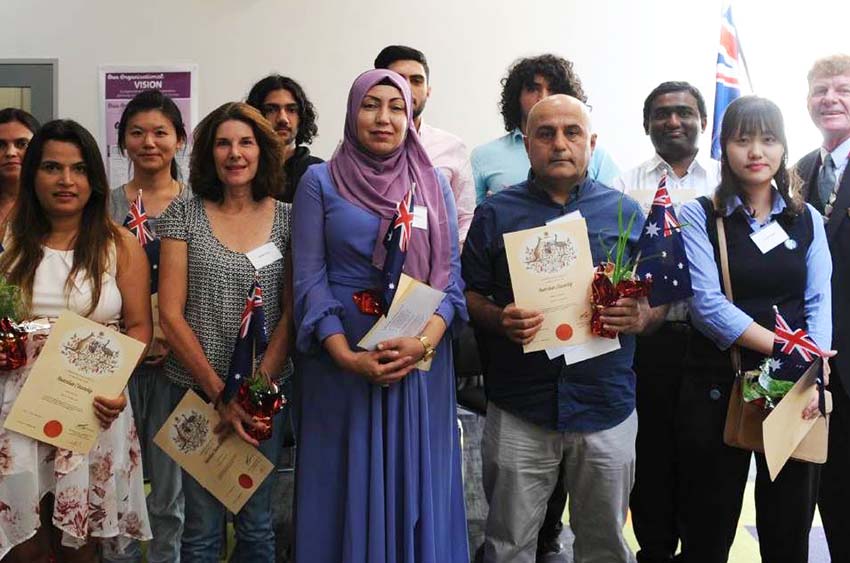 After you have received notification that your application has been successful you will need to attend a citizenship ceremony and make a pledge of commitment to complete the process of becoming an Australian citizen.
Usually, your ceremony will be held within 6 months of your application being approved. If you have not been contacted about attending a citizenship ceremony within 6 months, please call the Citizenship Information Line on 131 880.
You must attend your citizenship ceremony within 12 months of your application being approved otherwise the decision to approve your application for citizenship may be cancelled.
You will be invited to attend your ceremony about 4 weeks before the event. You will receive a letter of invitation from either your local council or the Department of Home Affairs (DHA).
The invitation shows the date, time and place of the ceremony. You cannot choose where and when to attend your ceremony. Local councils usually arrange the ceremonies.
What to bring to the ceremony
Frequently Asked Questions
"Advance Australia Fair" - Australian National Anthem
You can listen to this song here
The lyrics of "Advance Australia Fair", as modified by the National Australia Day Council, were officially adopted in April 1984. The lyrics were updated as of 1 January 2021 in an attempt to recognise Indigenous Australians, with the word "one" in the second line replacing the previous "young". The lyrics are now as follows:
"Australians all let us rejoice,
For we are one and free;
We've golden soil and wealth for toil;
Our home is girt by sea;
Our land abounds in nature's gifts
Of beauty rich and rare;
In history's page, let every stage
Advance Australia Fair.
In joyful strains then let us sing,
Advance Australia Fair.
Beneath our radiant Southern Cross
We'll toil with hearts and hands;
To make this Commonwealth of ours
Renowned of all the lands;
For those who've come across the seas
We've boundless plains to share;
With courage let us all combine
To Advance Australia Fair.
In joyful strains then let us sing,
Advance Australia Fair."
Australian Citizenship Certificate